As part of our project, we are developing a set of resources to help Non Indigenous researchers think about how they can approach working with Indigenous researchers and communities. These include:
Transforming Indigenous/Non-Indigenous Research Partnerships – COMIC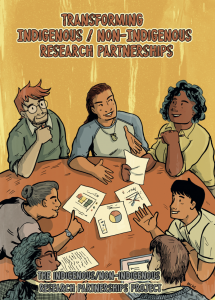 A visual resource for use in discussion about the challenges and benefits of effective research collaborations.
Indigenous Non-Indigenous Partnerships – VIDEO
A 10 minute video including some of the key points from our longer audio discussion mixed with images from our comic.
Find out more about our video.
Footprint in the sand – AUDIO DISCUSSION
An inspiring 40 minute conversation between the researchers who collaborated on our project: Ros Edwards, Helen Moewaka Barnes, Deborah McGregor and Tula Brannelly.
Find out more and access a full transcript.
Our project BLOG
Researchers share their experiences and tips on our blog. 
Useful LINKS and further READING
We have pulled together some interesting links and further reading for you here.